Hygienists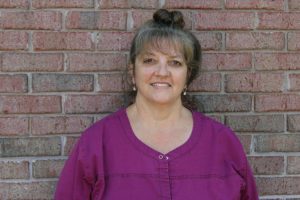 Jill is an experienced dental hygienist at our practice who has been with us since 2001. After completing her Associates in Science from the University of Vermont in 1982, she started her career in the field of dental hygiene. With her immense knowledge and technical expertise, she always aims to provide the best dental care to our patients.
Jill's contribution to the success of our practice goes beyond her role as a dental hygienist. She has built strong lasting relationships with our patients, earning their trust and loyalty. Her passion for patient satisfaction aligns well with our practice's values and beliefs. Outside the office, Jill enjoys gardening, reading, and spending time with her partner of 24 years and their two cats. Native to Swanton, she is an active member of the community and cares deeply about the well-being of her patients and their families. We are proud to have Jill as a part of our team and value her commitment to our patients' oral health and satisfaction.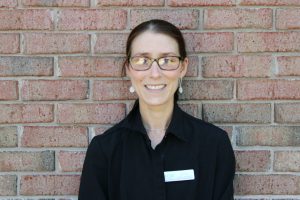 Meet Katie G, our highly skilled Dental Hygienist and Expanded Functions Dental Assistant who has been an invaluable member of our practice since 2017. Katie embarked on her journey in the dental field in 2004 when she graduated from the Center for Technology Essex Dental Assisting program, where she was also recognized with the prestigious Dorothy Wooton Award. Furthering her education, Katie successfully completed dental hygiene school at Vermont Technical College in 2014.
What truly sets Katie apart is her unwavering commitment to delivering the highest level of dental care and genuine warmth towards patients. Not only is she proud to be part of our close-knit team, but her passion for treating our patients like family has tremendously contributed to the success of our practice. Always keen to expand her horizons, Katie finds great joy in various hobbies such as painting, woodburning, knitting, working with polymer clay, and investing time and love into her new house. This creative and professional zest enriches her work as a dental hygienist and assistant, making Katie an outstanding member of our team.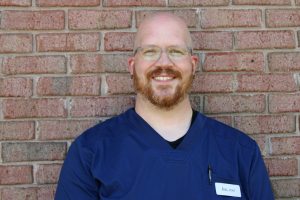 Joseph Elkins is a highly skilled and compassionate Registered Dental Hygienist who joined our team at ACDC in June of 2023. With a background in dental hygiene from VTC (now VSU), Joseph completed the program in 2018 and is driven to enhance his skillset by pursuing a bachelor's degree in software engineering. At our office, Joseph thrives in the well-organized and team-oriented environment, contributing to the seamless flow and high-quality care we provide.
One of his standout qualities is his ability to manage patients with high anxiety, as he genuinely empathizes with those who are nervous about dental treatments. Outside of work, Joseph cherishes his blended family, with three wonderful kids. He enjoys outdoor activities such as hiking, paddleboarding, and snowboarding, as well as playing guitar since the age of 14. Joseph's unwavering commitment to patient care ensures that he always provides the best and most personalized treatment possible.
Front Desk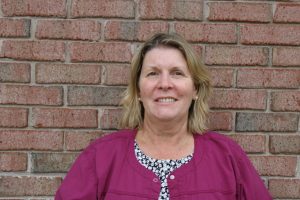 Meet Carrie, our dedicated Office Manager, who joined our practice in January 2016 after a successful 32-year career in the banking industry. She holds an A.A.S. degree in Business Administration from the esteemed State University of New York Agricultural and Technical College. Being an integral part of our practice, Carrie loves witnessing the transformation in our patients' smiles and cherishes the heartfelt conversations she has with our staff about their life experiences.
Her invaluable contribution to the practice lies in her keen ability to assist patients with their dental needs and help them navigate their insurance coverage. Outside of work, Carrie is passionate about spending quality time with her family on the picturesque Lake Champlain. She is an outdoor enthusiast with a variety of hobbies, including gardening, quilting, walking, boating, kayaking, and playing cards. By striking a perfect balance between her professional and personal life, Carrie brings a unique and refreshing perspective to our practice, making her an indispensable member of the team.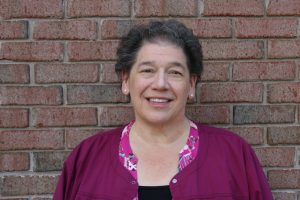 Denise is our dedicated and experienced Patient Coordinator who has been an essential part of our dental practice since August 2017. Prior to joining our team, she had the privilege of working alongside Dr. Edward Schumer for many years and was thrilled to continue her journey with him when our practices combined.
With a comprehensive educational background and a passion for patient care, Denise takes pride in the lasting relationships she has developed over the years. She has witnessed the growth of children who began their dental journey with her, and now come to the practice as adults with their families, trusting Denise to provide exceptional guidance and assistance.
As a devoted Patient Coordinator, Denise consistently contributes to the overall success of our practice by cultivating trust and honesty with our patients. Her expertise and dependability have been essential in fostering a supportive and nurturing environment at our dental practice.
Outside of work, Denise enjoys a life rich in family and leisure activities. Married for an astounding 37 years, she is a loving mother of two adult children and proud fur-mom to an adorable Norwegian Elkhound puppy. In her free time, Denise can be found indulging in pool exercises, playing card games with friends, and traveling throughout the beautiful landscapes of our state.
Denise's unwavering commitment to our practice and the personal connections she has built with our patients are a testament to her outstanding character and professionalism. We are grateful to have her as an integral part of our dental family and look forward to many more years of working together to create beautiful, healthy smiles.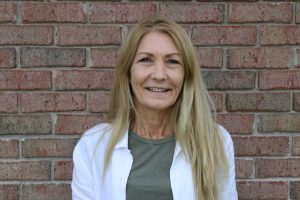 Jackie is a highly skilled and dedicated TDA (Traditional Dental Assistant) and Front Office Staff member at our dental practice. She joined our team in 2021 and has since been an integral part of our success. Jackie received her education from the reputable Center for Technology in Essex, Vermont, and is certified in dental radiology, which she obtained in 2022. Her exceptional educational background has allowed her to develop a deep understanding of the dental industry and excel in her role.
One of the aspects Jackie enjoys the most about being a part of our practice is the opportunity to work collaboratively with a team of skilled professionals. Her ability to successfully blend her TDA and front office capabilities allows her to contribute to the overall success and seamless functioning of our dental office. As a testament to her strong work ethic and dedication to her role, Jackie always prioritizes the needs of her patients and ensures each patient receives the highest level of care.
Outside of work, Jackie is grateful for her wonderful and supportive family, including her two amazing grandchildren, who bring joy to her life. She is also an avid gardener, utilizing her green thumb to cultivate beautiful and thriving plants in her spare time. Jackie's dedication to her family, her hobbies, and her career at our dental practice continues to make her an invaluable member of our team.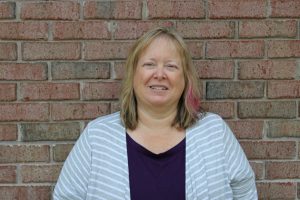 Meet Susan, our dedicated Patient Coordinator who joined our practice in April 2021. With over 30 years of experience in customer service, Susan brings valuable skills from her time in the student loan and health care industries. As a vital part of the practice, Susan loves interacting with patients and staying up-to-date with everyone's lives. She plays a significant role in ensuring patient satisfaction by facilitating their dental care journey, ultimately leaving them with a smile.
Outside of the office, Susan cherishes her close-knit family in the area and enjoys indulging in hobbies like immersing herself in a good book and basking on a beach chair. Susan is also an avid Disney fan and travels to Disney World whenever she gets the chance. With her wealth of experience, warm personality, and unwavering commitment to providing exceptional care, Susan is a crucial asset to our dental team.
Dental Assistants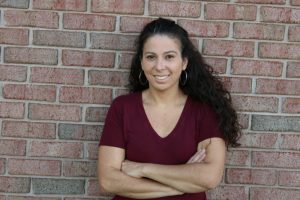 Danielle is a highly experienced Dental Assistant. She joined the team on May 30th, 2023 after a year and a half break, she returned to continue her excellent work alongside our dental team. With an impressive 12 years of on-the-job experience, Danielle has gained vast knowledge and expertise in the field of dental assistance.
What Danielle loves most about being a part of our practice is the calming atmosphere, which not only benefits the patients but also the entire team. Her exceptional team player attitude contributes significantly to the overall success of the practice. Outside of work, she is a dedicated wife and mother of two wonderful boys. When she's not spending quality time with her family or friends, Danielle enjoys reading and embarking on exciting family outings.
Throughout her career, Danielle has developed a deep passion for her profession and takes great pleasure in getting to know patients on a personal level. This patient-centered approach helps make each individual's experience at our practice even better, and we're proud to have Danielle Ryea as an integral part of our dental team.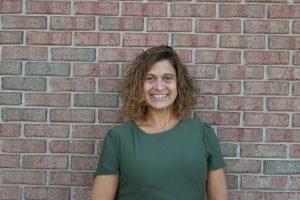 Meet Kathy, our esteemed Expanded Function Dental Assistant who joined our practice in 2014. With a wealth of experience and dedication under her belt, Kathy has a Certificate in Dental Assisting (CDA) from Essex Technical Center, Essex, Vermont, and an Expanded Function Dental Assistant degree (EFDA) from Manor College in Jenkinstown, Pennsylvania.
Kathy takes immense pride in being an essential part of our team, citing the exceptional teamwork amongst our assistants and Dr. Leska's attention to detail in patient scheduling as key factors in maintaining a smooth-flowing and timely practice. In her role, Kathy is deeply committed to her patients' well-being and continuity of care, adeptly explaining treatment recommendations using an intraoral camera and ensuring they always have a scheduled appointment for their next visit.
Beyond her professional duties, Kathy cherishes her personal life, enjoying a marriage of over 36 years, life with her beloved dog Charlie, and a plethora of hobbies including reading, painting, gardening, boating, camping, and long walks with her canine companion. With her blend of expertise, empathy, and enthusiasm, Kathy plays a vital role in our team as we strive to provide exceptional patient experiences and comprehensive dental care.
Introducing Cheri, a Certified Dental Assistant who joined our practice in 2020. Cheri's impressive educational background includes attending the Dental Assisting program at CTE where she earned certifications in dental radiology, CPR, and medical emergencies. In addition, she pursued her passion for biology at the renowned Dartmouth College.
What Cheri enjoys most about being a part of our practice is the friendly and cohesive team environment, as well as the ongoing commitment to improvement and adaptation to new dental technologies. Her contributions to the success of our dental practice are evident through her goal-oriented mindset, efficient time management skills, and her ability to effectively communicate with and educate our patients.
On a more personal note, Cheri proudly runs a restaurant with her spouse and has two beautiful children. Her involvement in her family's apple orchard exemplifies her dedication to hard work and strong family values. In her spare time, Cheri is an avid fitness enthusiast who loves running, having completed multiple half marathons and one full marathon. She also enjoys hiking, mountain biking, kayaking, and paddleboarding. Cheri's personal philosophy effortlessly aligns with her professional life, as she believes, "If you are working on something that you really care about, you don't have to be pushed. The vision pulls you."